The Excellence in Teaching Award Reception information will be posted here as it is scheduled each year. 
The Excellence in Teaching Award recipient for the 2022-2023 Academic Year is: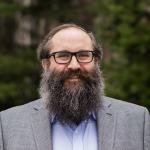 Dr. Mark Gondree, Computer Science
2023 - 2024 Academic Year Nominees:
Alexis Boutin
André Minor
Andy Wallace
Elisa Velasquez-Andradé
Jenny Bent
Marissa Mnich
Matty Mookerjee
Monica Lares
Shannon Lee
The comment period is open until Monday, April 3rd. Please utilize the submission form to offer your comment.
Preamble.
These annual awards recognize and reward excellence in teaching at Sonoma State University. Each year the award honors at least one Sonoma State University faculty member who has made outstanding contributions to the education of Sonoma State students through classroom instruction and other activities that promote student learning. These awards provide students and faculty an opportunity to reflect on the importance of teaching at Sonoma State University and in particular the contributions that recipients of the award have made to students' intellectual and moral growth and development.
Number of Awards and Funding.
More than one award may be given, based on available funding. If more than one award is given, at least one award shall honor a non-tenured faculty member and at least one shall honor a tenured faculty member. The purpose of dividing the nominees into two groups is to encourage and promote excellence in teaching at all career stages. The President, in consultation with the Academic Senate, may add additional awards as new gifts to the University become available.
Eligibility:
Any member of the instructional, library or student affairs faculty, or any administrator or staff member who teaches credit-bearing courses may be nominated with two exceptions: 1) Anyone currently participating in the Faculty Early Retirement Program (FERP); 2) Anyone who has previously received this award at Sonoma State University. To be eligible, the nominee must have taught at SSU for at least four semesters during the previous five academic years, one of those semesters being in the academic year in which the nomination occurs.
Nomination and Selection Process: 
Anyone in the SSU campus community may submit nominations. A call for nominations will be published in both the campus newsletter and in the SSU Star newspaper, and will be distributed by e-mail on the SenateTalk listserve and through other e-mail distribution lists. Nominations should be in the form of a letter to the Excellence in Teaching Award Selection Committee. A list of those who have accepted nomination will be published in the same manner.
Nominated Faculty will submit to the Academic Senate Office, the following dossier by the timeline determined each Spring semester:
A brief curriculum vitae of 5 pages or fewer, focusing on teaching experience;
A two page statement of teaching philosophy
A sample course syllabus; and
Up to five pages of supplemental material related to teaching, e.g. statements of recognition from outside entities such as business groups, research institutions, or previous students or employers. These materials may come from the nominee's existing Reappointment, Tenure, and Promotion file.
*The Excellence in Teaching Winner(s) will be asked to lead a faculty PD session highlighting an element of their teaching.
Public Comment:
After the list of nominees has been published, students, faculty, staff or anyone in the wider community may submit comments via e-mail. Comments must include verifiable contact information and return address. E-mails must be sent directly to the Academic Senate.
Selection Committee:
The Teaching & Learning Subcommittee of the Faculty Standards and Affairs Committee serves as the selection committee. A student representative from Associated Students will be invited to participate in the selection process.
Criteria for Evaluation of Nominees.
The selection committee shall choose those persons from among the current pool of nominees whom they deem to be exemplars of excellence in teaching because of their quality of instruction, their creation of an academic environment that successfully encourages high intellectual aspiration and achievement, their effectiveness in mentoring students, and their promotion of learning outside the classroom.
Current Semester (timeline set by the Senate office on or before February 6th.)
Call for nominations - February 6, 2023
Nominations due -  February 27, 2023
Names published - March 1, 2023
Dossiers due from nominees - March 27, 2023
Due date for signed comments - April 3, 2023
Recipient(s) announced - TBD
Historical List of Recipients of the Excellence in Teaching Award
Approved by the Academic Senate on April 23, 2009, revised and approved March 8, 2012, calendar and announce time revised Fall 2014, revised and updated February 3, 2022.
This document originated in the Faculty Standards and Affairs committee.